Organisers: Notting Hill Carnival, Taylor Herring PR Agency
Europe's biggest street party partnered with Samsung to bring the Carnival experience to people's homes this year. Multi-platform activities amplifying Samsung's "Shoot in 8K. Watch in 8K" campaign showed the "Colours of the Carnival" in high definition. Mini films featuring musicians, dancers, costume designers and chefs were shot using Samsung Galaxy 20 phones and featured as a key part of the online-only Carnival on YouTube.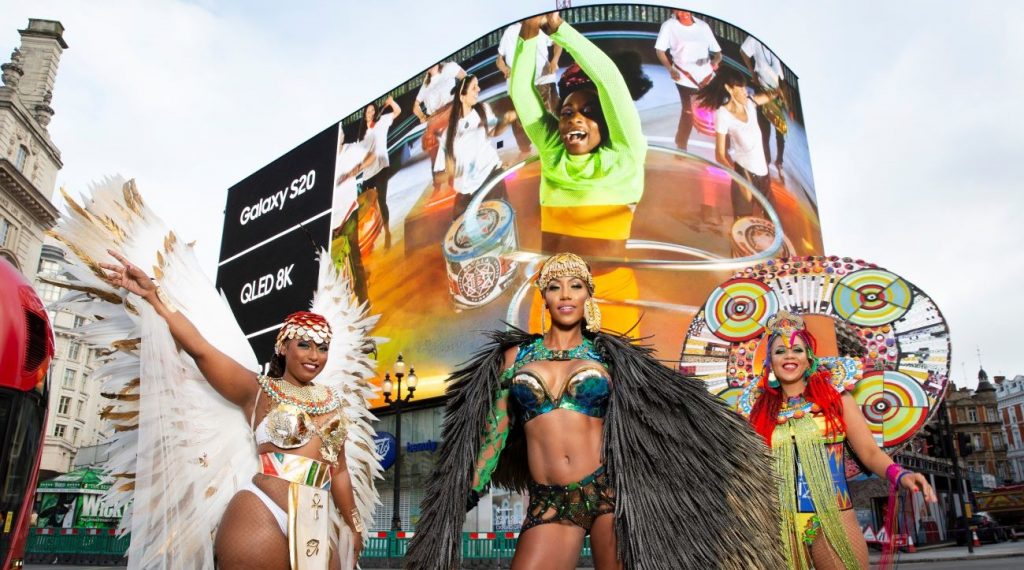 The first-ever online Carnival was dependent for its impact on its technology provider, to the extent that the relationship between the Carnival and Samsung became almost an equal partnership. Taylor Herring's campaign promoted Samsung as the technology partner making the online carnival possible, without detracting from the integrity of the Carnival itself. The online event began with a countdown and exclusive preview on the big screen at Piccadilly Circus. Samsung logos emblazoned over the screen summed up the campaign's symbiotic relationship: the Carnival needed Samsung's ultra-HD technology to make the online event a powerful experience, while the vivid "Colours of the Carnival" provided Samsung with the perfect chance to show off its 8K offering.
"I love this campaign. Carnival is a feast for the senses - vibrancy, music, colour, extravagant costumes. It's both a celebration and a protest, a thriving community and a worldwide event. To capture its spirit online was always going to be a huge challenge, but thinking creatively meant that the online version of Carnival reached a global audience, and showcased Samsung's technology brilliantly. A real win."